Four new brushcutting trousers and a brushcutting jacket are now available in the SIP Protection brushcutting range. The design looks fancier than ever and the trousers have never been more comfortable.
Five additions
Our special applications range has been refreshed with four new brushcutting trousers and one accompanying high visibility jacket. You might be familiar with our BasePro range of chainsaw protective clothing. Well, this brushcutting range also provides you with comfortable, light-weighted garments for a reasonable price.
Pick your colour
Our traditional brushcutting trousers have always been bottle green. We have recently added a more modern alternative: anthracite grey trousers with orange details. Is high visibility your top concern? Don't worry! An updated version of the existing yellow and orange Hi-Vis trousers remain in our range. All trousers are now manufactured using a new fabric.
Add a brushcutting jacket to your uniform
Our new brushcutting jacket combines two major themes: protection and visibility. Before, we could only provide you with protective trousers for brushcutting. Now, you can be protected and highly visible from head to toe. The jacket complies with the high visibility EN ISO 20471 standard. It is light and comfortable and has a zip closure on the right-hand side to improve your brushcutting comfort. Thanks to that zip closure, the jacket can be worn on top of your harness instead of under the harness. That way, the Hi-Vis aspects of your jacket remain visible.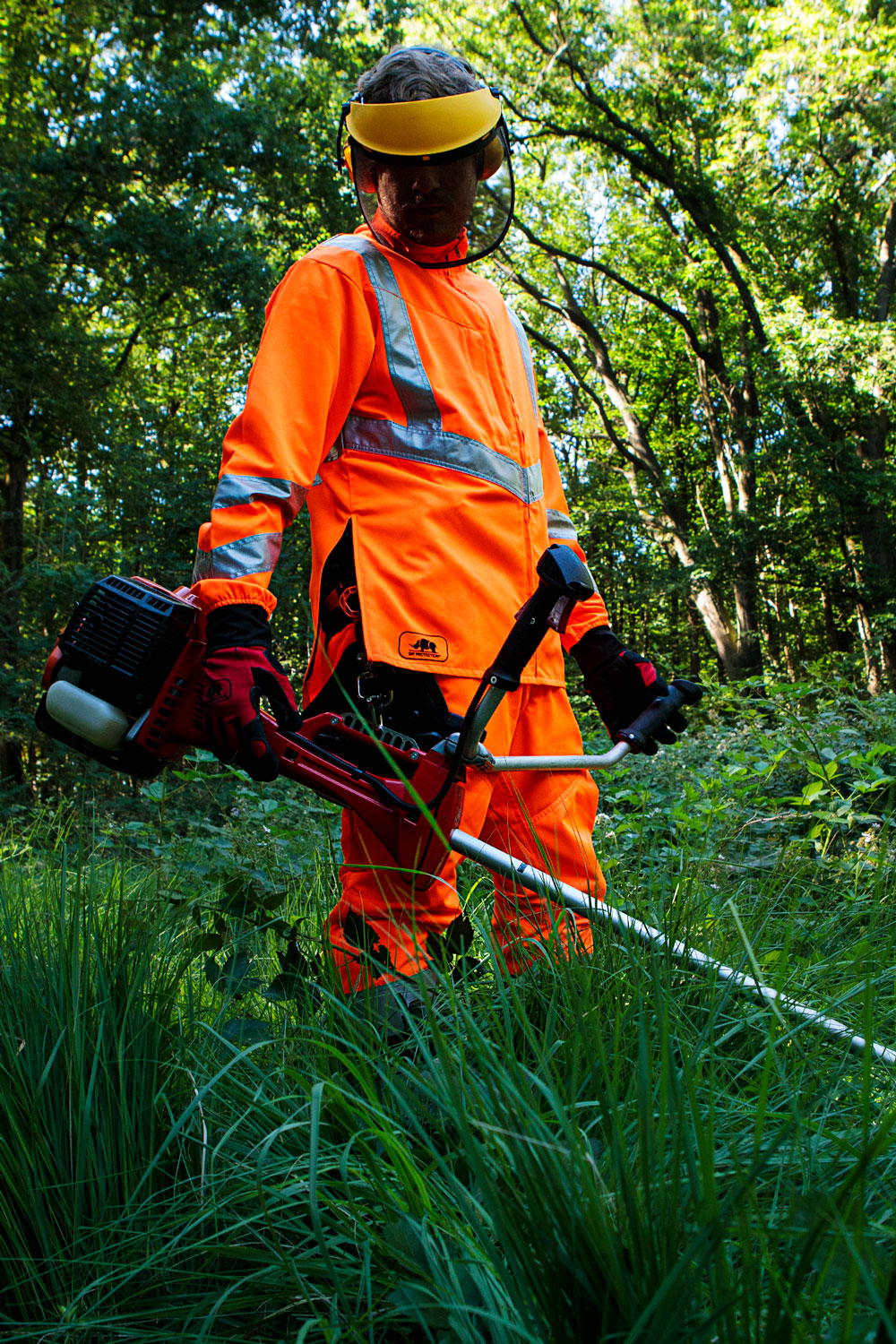 Our trousers protect through innovation
Our new Greenkeeper Vent and Greenkeeper Vent Flash both have a large ventilation mesh at the back of the legs. Your knee pit is a very warm place and by ventilating that area, you will be able to work in hot weather conditions more comfortably. In addition, all trousers have a waterproof front that is washable. The front of the legs stays dry when walking through wet grass or other vegetation. Cleaning has never been this easy.
Finally, the Greenkeeper and the Greenclipper have a 3 mm foam that reaches just above the knee. It absorbs the impact of high velocity flying debris that might be smashed against your legs while working. The Greenkeeper Vent and Greenkeeper Vent Flash even have a 6mm removable foam reaching to just below the knee.